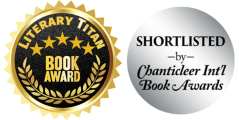 Baker Street Irregular by Craig W.Fisher
The allies have carved up the former empire of the short-lived, thousand-year Reich. Fractured post-war Berlin is a city crawling with spies and foreign agents. The police department is being run like a corrupt puppet of its Soviet masters. Decorated intelligence agent Bill Hoffmann is investigating the whereabouts and activities of an ex-Gestapo officer wanted by the British government for war crimes.
Suddenly a fellow agent ends up dead, surrounded by incriminating evidence that all points to Bill. A previous mission undercover in occupied Paris in 1944 appears to be somehow linked. Under threat from all sides, including his own, if he can solve the case and wrap up the investigation, he might also clear his name. He can trust no one.
All he has are his wits, questionable smoking habit and his trusty commando fighting knife. Things are about to get even bloodier, but in Berlin, they've seen it all before. Or have they?
Publisher - Godwinson Press
ISBN 978-1-7397807-1-5 - eBook
ISBN 978-1-7397807-0-8 - Paperback
ISBN 978-1-7397807-2-2 - Hardcover
AISN B0B7GNLFH7 - Kindle eBook
GGKEY:Y6R6BFCBY03 - Google Audiobook